13 Hand-Picked Web Form Resources for Developers
Effective web forms are a crucial part of any Web site or landing page. They are the window through which site visitors interact with the site. Unfortunately, they can be a pain to create.
The good news is there exists several resources that make developer's lives simpler by offering complete, on-demand forms and surveys tailored to […]
Effective web forms are a crucial part of any Web site or landing page. They are the window through which site visitors interact with the site. Unfortunately, they can be a pain to create.
The good news is there exists several resources that make developer's lives simpler by offering complete, on-demand forms and surveys tailored to pretty much any need. In many cases, including a top-notch professional looking form or survey is as easy as embedding a line of HTML.
There are too many good options to list them all, but here are 13. Most have free trials so give them a try and see what works best for you.
Formerly called "Formspring," Formstack offers simple ways to build contact forms, surveys, event registrations and order forms. Formstack also allows for rules-based routing of submissions, so data can be sent to marketing, sales, customer support, etc. based on how it's set up. Like many form providers, Formstack has integrated with major online payment providers.
Wufoo has made a name for itself by offering a simple, cost effective solution for building all sorts of forms, surveys and invitations. They have tons of templates and customizable options, integration with major online payment providers and using their tools to build forms can actually be fun. They also have killer customer service.
LeadSwarm forms take an interactive spin on the traditional form. Instead of filling in blank fields, the form asks the respondent a series of questions much like a survey. Each question that appears is based on the answer to the previous question, so the form logically branches into different areas. These forms are great for lead capture/generation activities and make a nice alternative to a static contact form.
As far as do-it-yourself forms go, it doesn't get much easier than Google Docs Forms. For simple tasks like event registration, Google Docs Forms are a no-brainer and the integration with Google spreadsheets will make your life easy. And it's Google, so of course it's free!
Formsite has been around for years and has as full a feature set as anyone in the space. Formsite offers excellent e-commerce integration, attachment support and an easy drag and drop interface. They also offer products ranging from the simplest need up to the most complex enterprise needs.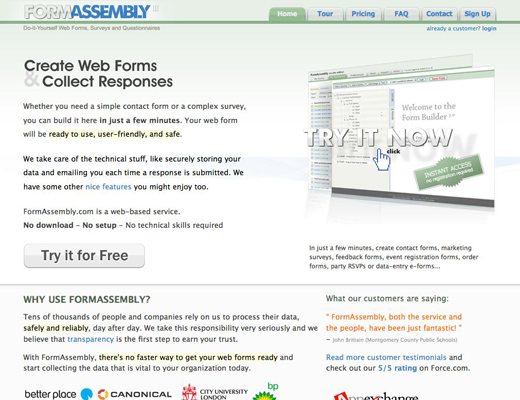 In addition to the features offered by many web form vendors, Form Assembly also provides the capability for respondents to save their progress and resume the form later on, and preview their responses before submitting.
FormLogix has an easy-to-use WYSIWYG interface to build many types of forms and surveys. You can choose from a few different pricing options including a free trial. FormLogix also offers an impressive library of free widgets you can use on your site.
FormExperts is a great inexpensive form builder with plans starting at $7 a month. The FormExperts site also has a unique take on an FAQ, offering actual questions and answers from users and FormExperts support staff. Like most form providers, Form Experts has an impressive library of templates.
MachForm is a robust, easy-to-use PHP form builder product with a rich feature-set including password protected forms and one entry per IP address. It stores submissions in a MySQL database.
For a free option, Visitor Contact offers some neat features including auto-responders and a cool sticky contact button which becomes part of your site.
Icebrrg lets anyone create web forms that look great and work even better. Icebrrg makes forms. What kind of forms? Just about any kind you can imagine.
Contactable is a jQuery plugin designed to make contact/feedback forms simpler and more accessible. This plugin will enable you to create a contact form on any page of a site with minimal effort.
Email Me Form is a free online form generator service that helps you create HTML forms for your website, with no programming required.
Killer Web Forms