What can you learn about website design from President Barack Obama? Obama's campaign success was partially because of the effectiveness of his website design using Movable Type. He proved change is indeed a good thing. Movable Type gives you the tools required to build interactive websites so your visitors can't wait to come back for more.
With Movable Type Hosting, you have an easy all-in-one solution with no hassles. Develop websites, manage and update content, create unique blogs and build social networks with one simple package. A major benefit of Movable Type is its scalability. As your business and website grows, the platform scales to accommodate your success and increased traffic needs.
Movable Type is also proven. For over seven years, Movable Type has been a blogging innovator powering some of the biggest blogs on the Internet. The platform accommodates high traffic loads effortlessly. Even if you have a large community of readers, Movable Type can handle it.
View Movable Type Screen Shots or try the Demo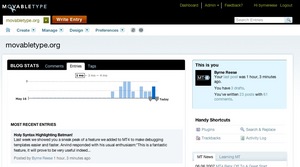 A single dashboard makes it possible to manage all your websites and assets in one place. View activity to see what's happening at your website. Input content effortlessly so it's always fresh and new. Conveniently manager all your media assets from the Moving Type dashboard. The community features are built in so you can built a social network that includes member profiles and more personal additions.
Another benefit of Movable Type is the built in anti-spam. Nobody wants to deal with spam and MovableType makes you feel more secure. The Movable Type platform is constantly improving their security record to ensure greater security for all their online users.
The latest version of Movable Type features a variety of new professional templates. These beautiful templates give your business website the polish you want to get noticed. Movable Type is up to 100 times faster than its releases from days gone by. Threading makes the experience more streamlined and effective for your website visitors. The search results are paginated so it's a breeze for visitors to find the content they want. Visitors who comment can respond to each other because the commenting is threaded.
SAVE 25% on Movable Type Hosting using promo code SAVE25
An interactive website makes the difference between online success and failure. When Obama was looking to become President, he received a huge amount of donations. Obama's Movable Type website made it a cinch for his supporters to go online and make donations at their convenience. With constantly updated news, reports, live video and blogs, Obama's website captures visitors and makes them come back for more.
Your websites can compete with the big players with Movable Type web hosting. Barack Obama is the the only one to harness the power of Movable Type. Others using Movable Type include ABC, NBC Universal, Nike, Intel, American Express, Serious Eats and singer Britney Spears. Clearly Movable Type websites are the wave of the future. Be on the Internet cutting edge with Movable Type for your business and realize the profitable rewards of offering the best to your visitors.